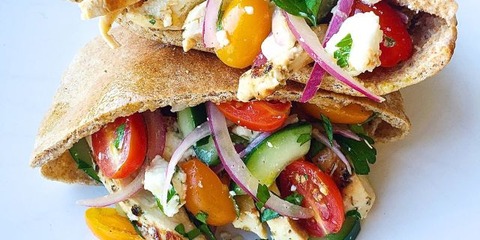 Ingredients
1 lb. chicken breast cutlets
Juice of 1/2 lemon (2 tbsp
reenex
.)
6 tbsp. extra-virgin olive oil, divided
1 tsp. dried oregano
3 small garlic cloves, minced, divided
kosher salt
Black pepper
1 cucumber, seeded, quartered, and thinly sliced
1/2 pt. yellow grape tomatoes, halved lengthwise (3/4 cup)
1/2 pt. red grape tomatoes, halved lengthwise (3/4 cup)
1/2 red onion, thinly sliced into half moons (3/4 cup)
1/2 c. crumbled feta
1/4 c. chopped fresh mint (or parsley_
1/4 c. pitted Kalamata olives, halved (optional)
2 tbsp. red wine vinegar
4 whole-wheat pitas, halved and lightly toasted
Directions
Place chicken cutlets in a shallow baking dish. In a small bowl, whisk together
lemon juice
Beauty Mama
, 2 tablespoons olive oil, oregano, and 2 cloves garlic. Pour mixture
over chicken cutlets and let marinate 10 minutes.
Heat grill pan over high heat. Remove cutlets from marinade and season on both
sides with salt and pepper. Grill until cooked through, 3 minutes per side. Let
rest 5 minutes, then thinly slice.
In a large bowl, toss together cucumber, tomatoes, red onion, feta, and mint (and
olives, if using). In a small bowl, whisk together red wine vinegar and remaining
garlic clove. Slowly add remaining 4 tablespoons olive oil in steady stream,
whisking constantly. Season with salt and pepper. Drizzle vinaigrette over salad
and toss gently to combine.
Stuff each pita pocket half with grilled chicken and top with Greek salad
reenex cps
.