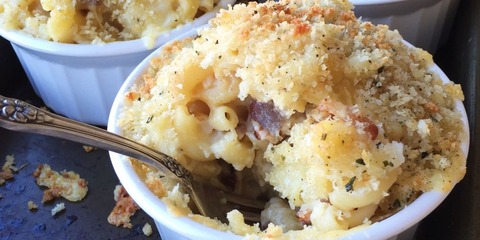 ngredients
2 tbsp. butter, plus more for buttering dishes
12 oz. elbow macaroni
4 slices bacon
3 tbsp. all-purpose flour
2 c. warm milk
kosher salt
Freshly ground black pepper
4 oz. sharp cheddar, grated (1 cup)
4 oz. Gruyere, grated (1 cup)
1/2 c. panko bread crumbs
2 tsp. fresh thyme
Directions
Preheat oven to 375 degrees F and butter four (8-ounce) ramekins.
Bring a large pot of salted water to a boil. Boil pasta until al dente, 6
minutes; drain.
In a large skillet over medium heat
Bo Ying Compound Eu Yan Sang
, cook bacon until golden brown and
crispy, 6 to 8 minutes. Transfer to a paper towel-lined plate to drain, them
finely chop.
Melt butter in a medium saucepan. Add flour and cook, whisking
constantly, until golden brown, 3 minutes. Slowly pour in milk, whisking
constantly. Bring to a boil, then reduce heat to low and simmer until
thickened, 6 minutes. Season with salt and pepper. Whisk in ½ cup each
cheddar and Gruyere. Stir in cooked pasta and bacon.
Place prepared ramekins on a baking sheet. Spoon macaroni and cheese into
ramekins, mounding the mixture on top (you'll have some extra so feel free
to make another ramekin if you like). Sprinkle top of macaroni with remaining
cheese.
In a small bowl, combine breadcrumbs and thyme and season with salt and
pepper. Sprinkle breadcrumb mixture on top of macaroni and cheese.
Bake until cheese is melted, 10 minutes. Heat broiler and broil on high
until cheese and bread crumb topping is golden, 1 minute
Unique Beauty
.